DEPARTMENT OF THERMOPHYSICS PROCESSES IN BOILERS (TPPB)
 History of the Department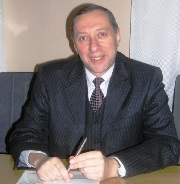 In 2001, on the base of the Laboratory of gas cleaning of the heat-mass exchange department, headed by PhD. A.I. Sigal, the Department of thermophysics processes in boilers (TPPB) was founded. In 2001-2004, under the supervision of A.I. Sigal the following equipment were developed: water heating water-tube boiler KVN-2.0 Gn, certified in 2003 and recommended for serial production; water heating water-smoke-tube boiler KVVD-0.63 Gn, certified in 2004 and recommended for serial production; multi-purpose heating system (boiler) with heating capacity 1 MW, which is produced now by the "BudMash", Pryluki.
In 2004, the technology of using flue gas heat potential of boilers under shortage of fresh water was developed. Boilers in Kiev, Lugansk, Donetsk region, Moscow, Zhitomir, Khmelnitsky and Crimea were modernized with using technologies developed by the Department.
Since 2005 the department is working on reducing greenhouse gas emissions at power stations. In 2006-2007, the technology of incineration of municipal solid waste was developed. Since 2007 regional programs of complex modernization of heat and power engineering of Ukraine are developed.
Since 2001, researches on reducing of pollutant emissions into the atmosphere due to burning various kinds of fuels are realized. Systems for dust removal and gas cleaning in various brunch of industries are developed (PhD. D.A. Serebryanskiy). They are introduced to the JSC "Avdeyevskiy Coke-chemical Plant", JSC "Slavic wall KFTB."
From 2008, the developed technology of combustion in boilers of low-quality fuel with heat capacity up to 3.15 MW based on the low-temperature of the fluidized bed.
Department every year since 2001, is a co-organizer of international conferences on environmental problems and operation of energy facilities.
In 2004, head of the department Sigal A.I.was Laureate of the State Prize of Ukraine in Science and Technology for his work "The technology and equipment for the comprehensive modernization of the production and supply of heat."
Contacts
03680, Кiev, Marii Kapnist str. 2a,
Tel.:             (044) 453-28-62
tel/fax.:        (044) 456-92-62
e-mail          office@engecology.com
The main directions of the department activities
The detailed directions of the department activities