THE NEW SAFE CONFINEMENT BOUNDARY CONTOUR CONSTRUCTION FIRE RESISTANCE ASSESSMENT ABOVE THE 4th BLOCK OF CHERNOBYL
Limit of fire resistance of building structures is determined either on approach temperature limits in construction volume, or on the basis of loss of load capacity.
The New Safe Confinement (NSC) boundary contour (BC) (Fig. 1) is the object of increased danger, therefore, under the walls NSC is raised the BC, which should protect the interior of the NSC lo fire. To address the problem of choosing the parameters BC necessary detailed calculations of temperature fields parts BC (in particular the 3rd and 4th turbine hall) under the action of fire (Figure 1 and 2).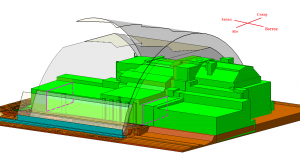 Fig. 1 View of the blocks 4 and 3 with the NSC and the indication of the location of Western and Eastern buttress wall (pink color), which are part of BC in the turbine building
а                                                                    b
Figure 2. Section of the turbine building, view from the North. Pink color indicates the location (a) and the type of buttress wall forming part of the boundary contour
The task selection parameters for evaluating the fire resistance of structures BC was solved using CFD-developed three-dimensional models.