Yury F. SNEZHKIN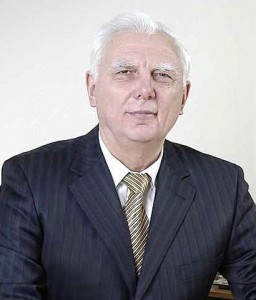 Acting head of the Institute, Academician of NAS of Ukraine, doctor of technical sciences, professor, laureate of state prizes of USSR and Ukraine in the field of science and technology.
Yury F. – scientist in the field power engineering, heat and mass transfer of thermophysical processes and energy-saving technologies. He created heat technologies and energy-saving equipment, most of which has no analogues in the world, patented and introduced nearly 60 enterprises of Ukraine and abroad.
Snyezhkin Yury F was born April 2, 1947, in Kyiv.
In 1971 he graduated Kyiv Polytechnic Institute (now – NTUU "Kyiv Polytechnic Institute"). For almost 45 years Snyezhkin Yury F. has been successfully working at the Institute of Engineering Thermophysics NAS of Ukraine. He has gone on to a young specialist at Acting head of the Institute.
Basic and applied research by Y.F. Snyezhkin includes: the thermophysical basics of biomass and peat in composite fuel, the processes of heat and mass transfer, phase transformation and deformation in the dehydration of colloidal capillary-porous bodies, the development of new and improvement of existing energy-saving heat technologies and equipment, designing theories, methods and application of circuit solutions of heat transformers of different types.
Yury F. is the author nearly 670 scientific publications, including 11 monographs and more than 130 patents. He heads department of the non-stationary heat and mass transfer in drying processes in the Institute of Engineering Thermophysics Sciences NAS of Ukraine. He is Professor of the Department of machines and devices chemical and petroleum industries of NTUU "Kyiv Polytechnic Institute".
He is Kazakh Honorary Professor of Engineering and Technology University and Southeast University of China.
The successful combination of research scientists work with scientific and organizational and teaching marked by many awards – the Presidents award based NAS of Ukraine, Belarus and Moldova, premium NAS of Ukraine by V.I. Tolubynsky and premium by O.V. Lykov of NAS of Belarus. In addition, the Y.F, Snyezhkin was awarded the title "Inventor of the USSR", "The Best Inventor of the National Academy of Sciences of Ukraine," he was awarded the Honorary diploma of NAS Ukraine, Honorary Diploma of the Kyiv Chamber of Commerce, honors NAS of Ukraine "For professional achievements," a medal on the occasion of 130th anniversary Scientific and Technical Union Scientific and Technical Union of Power and Electrical Engineering of Ukraine and many others.